Product Description
| | |
| --- | --- |
| Glass type | Tempered glass |
| Color | Clear or Color |
| Thickness | 4mm,5mm,6mm,8mm,10mm,12mm, 15mm, 19mm |
| Size | Customer demand ( Min300mm X 300mm to Max2440mm X 3660mm ) |
| Edge type | Polished |
| Certificate | ISO CE CCC BS6206 |
| Payment term | TT ,L/C, Western union |
| Shape | Curved Glass |
| application | Glass railings, Glass Staircases, Glass Shower Enclosures, GlassPartitions, and Glass Elevator Enclosures ,Glass Facade, Glass Curtain Walls etc |
Product Introduction

A creative alternative for architects and designers, bent glass is tempered that is bent, during the heat-treating process, to a specified radius to create unique profiles for installations in commercial and residential applications.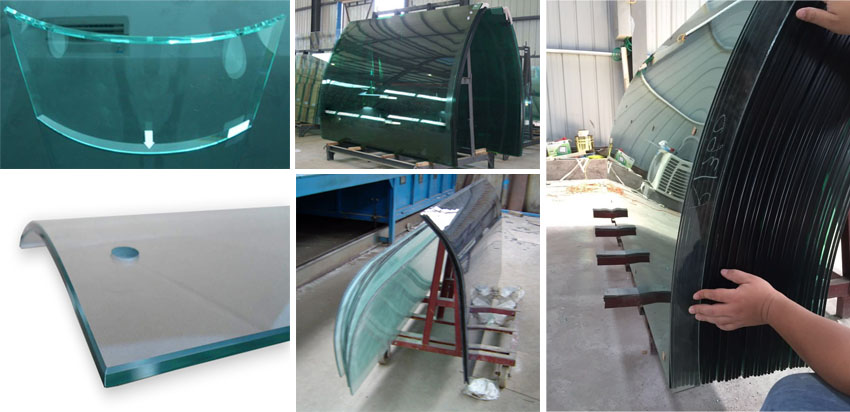 Product Features
Flat glass is heated until red hot, carefully formed to the desired shape, then tempered by super cooling to trap high energy within the glass. The resulting bent tempered glass has up to a fourfold strength increase compared to annealed glass of the same thickness and if broken, breaks into an innumerable number of relatively small fragments of more or less cubicle shape


Product Applications

Handrails and Spiral Staircases

Shower Enclosures
Partitions and Elevator Enclosures
Commercial/Residential Windows
Curtain Walls and Storefronts
Range hoods, Food display, Display cases, Counters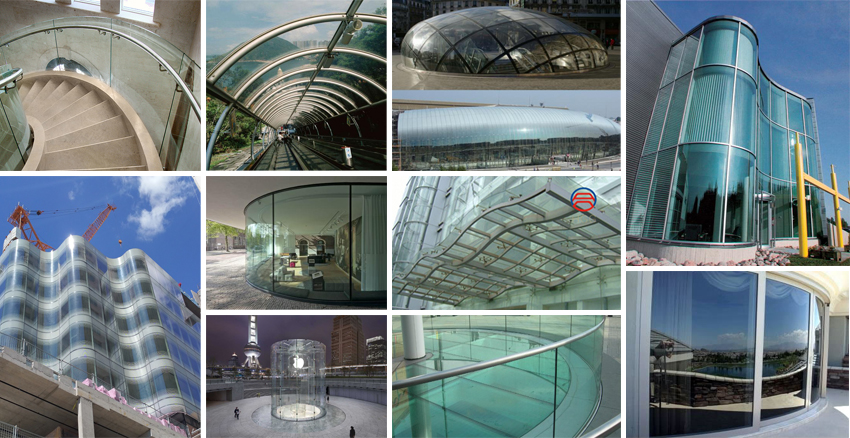 Production Range
HGG Glass has ability to complete two kinds of bending according to our customers requirements,we called B Bending and C bending.
1,For B bending glass:
Thickness: 4-12mm
The minimum radius: R≧450mm ( this figure is only for the thickness range 4mm to 6mm.)
The maximum sizes: 1000mm ( arc length) x 2000mm (width)
The minimum sizes: 350mm ( arc length) x 200mm (width)
2,For C bending glass:
Thickness: 5-19mm
The minimum radius:
A: R≧950mm, while thickness 5-6mm
B: R≧1200mm, while thickness 8-12mm
C: R≧1800mm, while thckness 15-19mm
The maximum sizes: 2000mm ( arc length) x 3000mm ( width)
The minimum sizes: 400mm ( arc length) x 300mm ( width)
3, For D bending glass-extra large curved tempered glass / oversized curved tempered glass:
Thickness: 8-19mm
The minimum radius: R≧1500mm (R≧5000mm is better)
The maximum sizes: 3300mm (arc length) x 9000mm (width)
Quality
In accordance with GB 15763.3-2009 Chinese Standard
In accordance with JISR 3205 Japanese Standard
Pass Chinese Safety Glass Compulsory Certification (CCC)