Product Description
| | |
| --- | --- |
| Glass type | Tempered glass, float glass |
| Color | Customizable |
| Thickness | 3mm、4mm、5mm、6mm、8mm、10mm、12mm、15mm.etc |
| Size | Customizable |
| Edge type | Flat, pencil, beveled ,polished D, C, ogee |
| Quality Certificate | EN12150 , BS6206 , ISO9001 , ROHS , REACH |
| Payment term | TT ,L/C, Western union , PayPal |
| Shape | Rectangle shape , round shape , Square shape , Oval shape , irregular shape |
| application | Facades and Curtain Walls, Skylights, Green House, etc |
Product Introduction
Energy efficiency and decoration effect are the two key requirements of modern architecture for glass. Low-E coated glass (Low-E glass) is a kind of glass on which surface several layers of metals (included silver layer) or metallic compounds are sputtered. It has high visible transmission and high reflectance to infrared. Therefore, Low-E glass can supply very good heat insulating performance and meet the requirement of energy saving by preventing overfull solar energy coming into room during summertime and reducing indoor heat loss during wintertime. Furthermore, avaiable various colors can satisfy the decorative requirement of building.

Tempered low-e glass
By reasonable configuring Low-E glass into IGU, it has become the best choice of modern architecture because of its excellent performace on heat insulating, sound insulating, heat preservation and lighting. Low-E coated glass produced by HGG consists of High-transmitance Low-E Glass, Shading Function Low-E Glass, Double silver Low-E Glass Triple silver Low-E Glass and processable Low-E Glass.
Quality Standard
In accordance with GB/T 18915.2-2002 Chinese Coated Glass Standard
Nowadays pursuing large daylighting glass area in architectural design becomes popular, and Low-E glass is widely used for energy efficiency consideration. HGG is the first manufacturer of Low-E glass in China. The Low-E glass produced by HGG is outstanding in energy efficiency and in aesthetics with various colors, thus being the primary choice in architectural design. According to the structure of Low-E coating, Low-E glass may be classified as single silver Low-E glass, double silver Low-E glass and so on.

Tempered insulated low-e glass
Product Features
Single Silver sunlight shading Low-E Glass
As low-E glass is qualified with characteristics of heat insulation and heat preservation. It applies not only to the south but also to the north region, it can effectively block the solar heat energy into room during summer and reflect infrared radiation from outside. Although it limits entry of some heat energy during winter but it wil block the entry of more solar heat energy, as the winter's solar intensity is only about 1/3 summer's, so the heat insulating performance is not effected, in fact, the integrated simulation to winer and summer's energy saving effect in north of China shows that the energy saving effect of sunlight shading Low-E glass. Sunlight shading low-E glass has various reflective colors and moderate light transmittance, the best decorative function and good sight shading effect to outdoor, so the glass is more widely used and beloved deeply by architects.
The differences among various types of glass is reflected in their spectral data as shown in the following figure
Features
1. Moderate visible light transmittance - crease the right indoor lighting effects and shading function to outdoor sight.
2. The lower solar energy transmittance — a wide range of shading coefficient SC <0.5, to limit solar heat radiation into room.
3. High far infrared reflectance — low U-value, reduced thermal transfer, limit summer outdoor heat radiation into room.

Single Silver high transmittance Low-E Glass
The insulating feature makes it suitable for cold northern regions, it allows solar radiation enter room to increase indoor heat, and reflects far-infrared heat radiation from indoor heating, house appliance and body to reduce heating energy consumption. Its high transmittance makes it suitable for different areas with high permeability of building design which makes building transparent, high natural lighting.
Within the coating structure of double silver Low-E glass, there are two silver layers. While maintaining the same visible light transmittance, it has lower shading coefficient, SC, than single silver Low-E glass. In other words, it filters the sunshine as a cool lighting source to a larger extent and provides a solution to energy efficiency in design of high transparency architectures.
Features
1. High visible light transmittance — it has good permeability ensuring better natural lighting
2. High solar transmittance – the more solar radiation through glass, the glass shading coefficient SC>0.5
3. High reflectance to infrared – lower heat transfer coefficient U-value and excellent insulating performance.

Double silver low-E Glass
Under the same visible light transmittance, it has a lower solar transmittance than ordinary Low-E glass, that is to say, it has a lower shading coefficient SC, in other word, it maximizes the sunlight filtering into the cold light soure, to solver the contradiction between high visible light transmittances and low solar transmittance, to meet energy saving and high permeability appearance. This kind of low-E glass is more suitable for our climate characteristics and its comprehensive energy saving effect is much better than ordinary low-E glass.
Double silver Low-E glass is high degree low-E glass, belongs to sunlight shading Low-E glass which highlights the sunlight shading function combined the high light transmittance with low solar radiation transmittance, it has the following two performance compared with the common low-E glass.

1. Higher visible light transmittance – to maintain a high visible ligh transmittance to ensure good natural lighting.

2. Lower solar transmittance – to limite the transmittance of solar heat radiation and near –infrared heat radiation.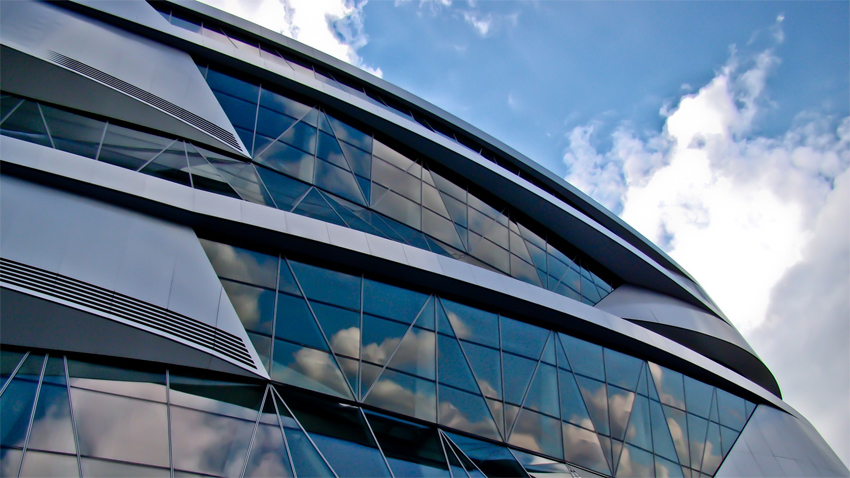 Triple Silver Low-E Glass
Within the coating structure of triple silver Low-E glass, there are three silver layers. As a result, triple silver Low-E glass performs better against solar heat than double silver Low-E glass and is currently the best silver based Low-E glass in terms of high visible light transmission and energy efficiency. Triple silver Low-E glass is suited for high transparency buildings with special solar shading requirement.
Bendable and Post-Temparable Low-E Glass
Ordinary Low-E glass cannot be bent and post-tempered after coating which limits larger scale application of Low-E glass and promotion of energy efficient buildings. In view of the prevailing conditions and economic development in China, HGG has researched and developed Low-E coatings made of new materials which can be bent and post-tempered after coating to meet the need of curved Low-E glass in current architectural design practice. The new Low-E glass has been widely used in a number of large buildings home and abroad. HGG has established a sound foundation for popularization of Low-E glass and made new contribution to the undertaking of energy efficient buildings in China.
Features
1. Can be bent and post-tempered after coating.
2. Has optical properties and energy efficiency as ordinary Low-E glass.
Selection of color:
The colors listed in the performance data table are outdoor natural reflective colors. When the background color changes, the observed reflective color may also change accordingly, therefore, the products should be observed at different locations from different angles for color selection.
Product application

Facades and Curtain Walls, Skylights, Green House, window,doors,etc.